Imagine: Adventures in Nature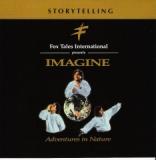 Fox's first recording includes stories of the food web and the water cycle, woven together with traditional and original music. This highly acclaimed CD makes abstract concepts concrete and palpable, while celebrating our relationships within the web of life.

The Web at Dragonfly Pond

appears on this CD in a longer format.
Watch an excerpt from

Walter the Water Molecule

.
All CDs are $16.00, Shipping and Handling included.
Purchase both Adventures in Nature and More Adventures in Nature for only $26, postage included!