Keynote Presentations •

Workshops

• Performances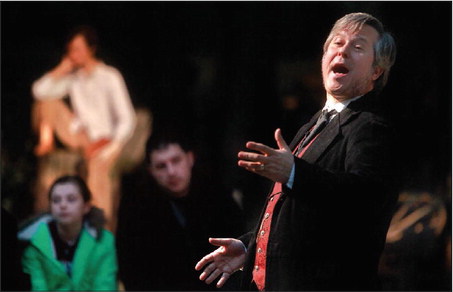 Since 1980, Brian "Fox" Ellis, storyteller, author and educator, has been touring the world
collecting
and telling stories. He has been a keynote speaker and/or featured workshop presenter at hundreds of conferences ranging from The
In
ternational
Wetlands Conservation Conference to the National Association of Gifted Educators Conference. His presentations are always custom tailored with a mix of pedagogy and practice, humor and inspiration. For this reason many of the state educational conferences invite him back on a regular basis! He has also published more
than 16 books, written

20 musical theatre productions

and is a frequent contributor to a wide range of magazines including trade journals, parenting, academic and general interest magazines. Know that Fox comes to your conference eager to work: willing to present break-out sessions that reinforce his keynote, to share stories at an informal late-night for storytellers, and to autograph books at your sales booth. His goal is to do whatever he can to make your conference a success!
Please follow the links to read a list of specific Keynote Addresses and Workshops for different conferences.
Presentations for:
A PARTIAL LIST OF RECENT CONFERENCES:
EDUCATIONAL CONFERENCES:
National Science Teachers Association

National Association of Gifted Educators

National Association of Biology Teachers

National Association for the Education of Young Children

Michigan, Illinois, Wisconsin, and Great Plains Reading Teachers Associations

Wisconsin, Ohio, Iowa, Colorado, and Nebraska Science Teachers Associations

Montana, Indiana, Alabama, New Jersey, Florida, and Midwest Environmental Education Associations,

Great Lakes Council of Social Studies, Iowa, and Illinois Councils of Social Studies,

Illinois Teachers of English

Europeon Librarians Alliance

England's YMCA Staff Training

National Storytelling Association, New England, Northlands, and Mid-Atlantic Storytelling Associations

Ohio Catholic Educators

National Ag in the Classroom Conference
SCIENCE CONFERENCES:
International Wetlands Conservation Conference

The American Association for the Advancement of Science Annual Meeting


National Non-Point Source Pollution Conference

Texas Project Wet: Make A Splash

Illinois Earth Stewardship Day

North American Prairie Restoration Conference

Science and Religion: A Joint Conference sponsored by the World Conference of Churches and United Nations
GENERAL CONFERENCES:
International Clown Convention

National Rabbit Breeders Association

North American Plymouth Owners

Michigan Heating and Air Conditioning Association

Illinois Association of Township Officials

Great Rivers Regional Tourism
Whatever the theme of your conference Fox can custom tailor a program to educate and inspire your participants. Please Contact Fox to discuss ways he can help you create a memorable event.