Historical Encounters
We are ready to launch our multimedia series of living books, History… In Person! Over the next few months we will be releasing 2-3 books per month. These interactive books are available on several platforms: you can Print on Demand a paperback book, read the book on your tablet as an e-book, listen to an audiobook and download the performance as a video, all with the aim of giving you an intimate encounter with historical characters as portrayed by Brian "Fox" Ellis. Follow this link to subscribe to the series.

Invite some of the world's greatest minds to your classroom, conference, Chautauqua, or museum.
Books and stories can bring to life distant times and places. The spoken word allows listeners to encounter some of the great minds in history. As an author and storyteller, Brian "Fox" Ellis has spent countless hours exploring the worlds these authors have created through their writings. The goal of these programs is to bring to life the ideas and perspectives that have shaped our world in a Chautauqua style presentation. Many of these programs come with extensive follow-up lesson plans in creative writing, history and science. Please click on the title of each program for more information about the character, links to lesson plans and letters of recommendation.
In a well-researched, interactive performance Fox portrays the movers and shakers of history, literature, art, and science:
SCIENCE: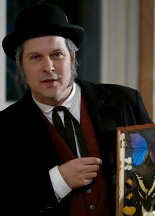 Explore the world of molecules and wooly mammoths, go birding with Audubon, sail the globe with Darwin or gaze deep within the genetic code of the pea that changed the world.
Adventures with John James Audubon
Charles Darwin and his Revolutionary Idea

A Conversation with Gregor Mendel
Meriwether Lewis' Scientific Discoveries
Prince Maximilian & Karl Bodmer: Touring the Wilderness of North America
POETRY AND LITERATURE: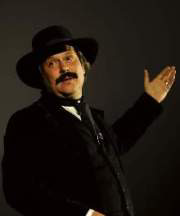 Celebrate the power of the word to change the world!
Walt Whitman: A Song of Myself
Steamboatin' Down the River with Mark Twain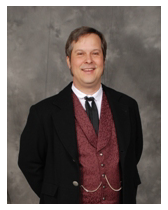 HISTORY:
THREE FRIENDS OF LINCOLN:
Fox portrays three different friends of Abraham Lincoln to give you a more intimate view of our favorite president:
Lincoln Tales Tall and True with Austin Guliher
Lincoln the Lawyer with Billie Herndon
CIVIL WAR STORIES:
To commemorate The Sesquicentennial of the Civil War, Fox offers diverse programs that explore different aspects of the war from several points of view: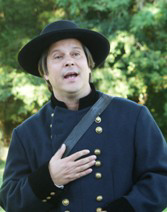 Black Jack Logan – Civil War General
Captain Henry Detweiller on the Roll of Steamboatin' in the Union Victory
A Soldier's Tale: The Civil War From the Front Lines
A NATIVE AMERICAN'S PERSPECTIVE: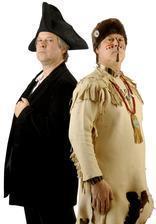 So often native people are left out of our history books. Fox illuminates these important stories highlighting Native Voices.
Black Hawk's View of American History
Indian Legends with Henry Rowe Schoolcraft
Tribal Tales From the River's Edge
Two Faces of Illinois History: A Dialogue with Ninian Edwards and Chief Gomo
Prince Maximilian and Karl Bodmer: Touring the Wilderness of North America

EARLY EXPLORERS:
Travel new trails with the men who blazed them:
Canoe Song: A French Explorer's Journal 1673- 1690
The Comic Mis-Adventures of Meriwether Lewis
Prince Maximilian & Karl Bodmer: Touring the Wilderness of North America
Exploring the wilderness of the Soul:

Walking in the Footsteps of a Saint: The Miracles and Poetry of Saint Francis of Assisi

"Brian "Fox" Ellis is the most effective first person story teller in America today. His insightful and entertaining style results in a learning experience with lifelong impact on children and adults alike. I recommend Fox, his film and other media materials to anyone wanting to provide quality educational experience, with humor and at a great financial value." Michael E. Quine, Past Chairman and Director of the Illinois River Road National Scenic Byway and Director of the Great Rivers Chapter of The Nature Conservancy