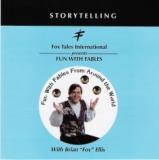 Fun With Fables From Around The World
These multicultural animal stories teach listeners to think for themselves. Listen to fables from Aesop, Musa, the Buddha, Tolstoy, and Elijah. Sing songs in English, Swahili, Russian, and Yiddish.
All CDs are $16.00, Shipping and Handling included.
Listen to

Two Friends

from Fun with Fables.
This CD contains a fun mix of stories and songs from many cultures:

Three Fables From Aesop (Ancient Greece)
Funga Alafia (African Song)
Musa's Son (West African Story)
Three Fables From Tolstoy (Russia)
Poost vsegda (Russian Song)
Elijah and the Golden Handle Cane (Israel)
Shalom Chaverim (Yiddish Song)
The End of the World (India)
The Tiger and the Five Foxes (Pakistan)
Ground Hog's Tale (Cherokee)