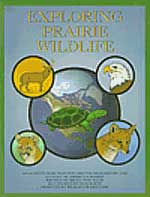 Written by Brian 'Fox' Ellis
Illustrated by Vicki Barth
Second in a series, this book is an inspiring and informative exploration of the wild animals who call the prairie home. It includes a food web game about prairie dogs and ferrets. The reader is invited to invent a predator, write a story, learn to talk to wolves and dogs, and plant a butterfly garden. There are mazes, a word search, hidden pictures and a board game.
"I see a lot of ideas for teaching Social Studies in this book, as well as science and ecology. I would like one for every student." Ruth Jaynes, Middle School teacher
"Wow! I learned so much about prairie history from this book, as well as science and ecology. I can see this being used both the classroom and in our homes. What a wonderful way to inspire a love for the prairie." Peggy Kulzewski, 1st grade teacher
Single Coloring Book: $4.00 (plus $2.00 for shipping and handling)
Internet Special: Buy all three activity books for $10.00 (plus $3 shipping and handling)
This book includes much of the state mandated curriculum in Illinois History for 3rd and 4th graders. A classroom set is a great way to bring history and ecology to life and is often something the PTA is willing to fund. Buy a classroom set of 20 (10 or more) for $2.00 each. (plus $3.00 shipping) If you would like an odd number to reflect the number of students in your class or grade level, say 23 or 57, please call 309-689-8000.