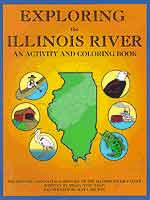 Written by Brian 'Fox' Ellis
Illustrated by Jeff Carlson
This highly interactive book raises the genre of coloring books to a higher art form. It includes creative writing ideas, word searches, and mazes, along with bird, fish, mammal and tree identification exercises. Using the river as a time line, it explores the various layers of Illinois history including the Native Americans, French explorers, American pioneers, steamboat captains, and modern folks.
Read a Book Review
"We were covering mollusks in my class today, so I shared the part about Mussels & Buttons from the Illinois River book. My high school students really enjoyed learning about local mollusks! Thanks again!!" Karla, Pekin High School
"Awesome! This is one of the coolest coloring books I have ever seen!" Ryan Thrush, 4th grade
"This is a wonderful piece of work - and very much what is needed in school." Carol Laken, Teacher
"The depth and breadth of this project is astounding. The activities and exciting ideas you have put between the covers of a coloring book are marvelous!" Julie Barr, Dickinson Mounds Museum Staff
Single Coloring Book: $4.00 (plus $2.00 for shipping).
Internet Special: Buy all three activity books for $10.00 (plus $4 shipping and handling)
This book includes much of the state mandated curriculum in Illinois History for 3rd and 4th graders. A classroom set is a great way to bring history and ecology to life and is often something the PTA is willing to fund. Buy a classroom set of 20 (10 or more) for $2.00 each. (plus $3.00 shipping) If you would like an odd number to reflect the number of students in your class or grade level, say 23 or 57, please call 309-689-8000.