Prairie Folklore Theatre presents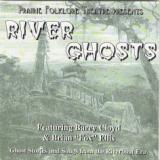 RIVER GHOSTS
Drawing from the writings of Mark Twain and true stories of local ghosts, this show is a mix of haunting ballads and spooky tales that are sure to make your flesh crawl. Brian "Fox" Ellis and Barry Cloyd weave together songs and stories from the Riverboat Era. From the modern "Ghost with Red Hair" to Mark Twain's "Ghost with the Golden Arm" there is something here for everyone.
Many of these stories are based on real events gleaned from newspaper accounts and eyewitness testimony. Is it real? That is something for you to decide! But I can tell this I know for certain: History is sometimes a scary subject!
All CDs are $16.00, Shipping and Handling included.
Listen to the reprise of the song

River Ghosts
Stories and Songs Included:
Opening chant
The Spectral Steamboat
River Ghost
Mermaid's Revenge
The Demon of the Wabash
The Ghost with the Golden Arm
Lost Jimmy Whalen
Long Black Veil by. Wilkens & Dill,
The Ghost with Red Hair
River Ghost Reprise