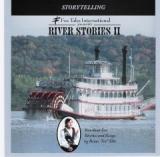 A medley of song and story blends the diary of an old woman reminiscing about the glory days of the steamboat era interwoven with the writings of Mark Twain,
including his first published story. There is a string of tall tales, a ghost story, and a true story from the underground railroad, bestowing a multi-perspective picture of river history on the listener.
Listen to

A Little Fish Tale

from River Stories II.
All CDs are $16.00, Shipping and Handling included.
Purchase both River Stories I and II for only $26, postage included!