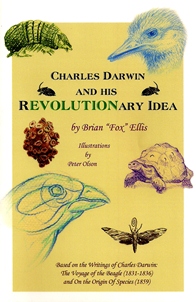 By Brian "Fox" Ellis
Illustrations by Peter Olson
Based on the Writings of Charles Darwin:
The Voyage of the Beagle (1831-1836)
and The Origin of Species (1859)
Imagine an afternoon with the affable, young Charles Darwin, among friends, telling the stories of his amazing adventure sailing around the world on HMS Beagle. This book tells humorous tales of his training as a naturalist, his insights into South American geology, his discovery of strange creatures on the Galapagos Archipelago and most importantly, the scientific evidence that lead to his revolutionary theory.
Storyteller and science teacher, Brian "Fox" Ellis eloquently brings the audience into Darwin's world to build a deeper understanding of the scientific process and engage readers in a discussion of the facts so they can draw their own conclusions.
Paperback $15.00 @ Amazon.com just for the book
Buy it from Fox Tales and you get the book and CD for $15.00 (plus $4.00 shipping).
Purchase the audiobook, read by Fox. $10.00 (plus $3.00 shipping).
"Your stage performance of the young Darwin and his voyage on the Beagle was one of the best monologues I have ever seen. Your material, acting, stage presence, and knowledge of Darwin were outstanding. Your responses in the Q and A afterwards demonstrated an extensive knowledge of Darwin, evolution, and indeed science itself." Dr. Marshall Berman Vice President, New Mexico State Board of Education