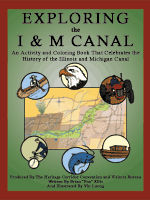 Written by Brian 'Fox' Ellis
Illustrated by Vin Luong
Third in a series, this book celebrates the history of the Illinois and Michigan Canal. Travel back through time in this interactive book that takes readers on a virtual tour from Chicago to LaSalle. This book is full of games and puzzles that explore geological time, natural history, Irish immigration, canal construction, life on a canal boat, and a bicycle tour on this National Heritage Corridor.
"It is a fascinating book. My other activity books are not as good as this one. Please make another one." David Robertson, 4th grader
"I have never learned so much from a children's book. It made me want to get out my crayons again." Barry Cloyd, historian and author
Single Coloring Book: $4.00 (plus $2.00 for shipping)
Internet Special: Buy all three activity books for $10.00 (plus $2 shipping and handling)
This book includes much of the state mandated curriculum in Illinois History for 3rd and 4th graders. A classroom set is a great way to bring history and ecology to life and is often something the PTA is willing to fund. Buy a classroom set of 20 (10 or more) for $2.00 each. (plus $3.00 shipping) If you would like an odd number to reflect the number of students in your class or grade level, say 23 or 57, please call 309-689-8000.