October 2015
Climbing Autumn's Peaks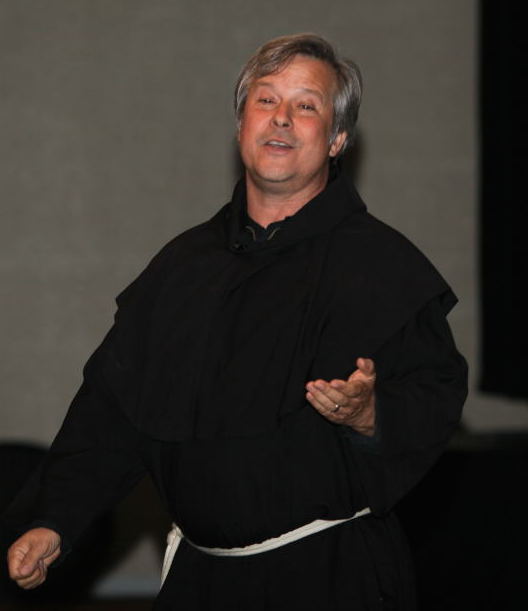 What hills are you climbing? What valleys have you crossed? Lingering in the shadow of the eclipsed Harvest Moon, the time of the black bear, the time of turning inward and introspection, what goals are within reach and what can you already cross off the to-do list? I write this epistle on the Feast Day of Saint Francis of Assisi, a week after the Pope has left the country. I have a quiet day at a hotel in El Paso in the midst of teacher training and conference keynotes to reflect on the path before me, to share some of my journey, and maybe spark a skip in your step as you meander along the long brown path before you:
Hunter's Moon Campfire: Ghost Stories
Book Lover's Weekends at The Twinflower Inn
Walking in the Footsteps of a Saint
And other folks, famous and infamous.

Saint Francis has been on my mind a lot of late with the new Pope choosing the name Francis as his papal name, with the recent feast day October 4th, and because one of my favorite chautauqua, High Plains in Greeley, CO, invited me to audition as Saint Francis via video. Follow this link to watch it. Please tell me what you think.
For more than a year I have been working diligently on creating more video and multimedia encounters with the various characters I portray. There is light at the end of the tunnel! On the dates of November 9, 10, & 11 we will film a few more shows. (Contact Fox if you want to be in the audience.) Several manuscripts are done and waiting to be edited. We are working out the tech details to offer these 'books' on a wide array of platforms from Amazon to Vimeo, Audible to iTunes. My goal is to have at least six done before the holidays. Please check back in late November to encourage our progress. Contact Fox to let me know which characters you think should be top priority.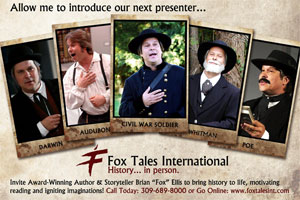 All Hallow's Eve and All Saints Day
I love Scary Stories, Dia de los Muertos, Day of the Dead, Samhain, and all that goes with this season of changes, when the veil between worlds is thin. It is obvious that Catholicism chose November 1st as All Saints Day in an effort to co-opt Halloween and pull pagan Europe into the church by harnessing the popularity of All Hallows Eve, also acknowledging the transparency between worlds yet urging us to focus on the spirits of saints instead of the spirits of the harvest festivals. I also love the great stories of the heroes embodied in the Lives of Saints. I share this lesson plan as a model for creating your own saint stories. For public school teachers, this lesson can be easily adapted to create historical encounters with any person from the past. And here is an article I wrote many moons ago on "How To Tell a Scary Story" that includes a bibliography of some of my favorite collections of terrifying tales!
Hunter's Moon Campfire: Ghost Stories
Once again we will be celebrating the season with "Ghost Stories Around the Bone-Fire" Friday, October 23rd at 7:00pm at The Twinflower Inn in Bishop Hill, IL. We will start with silly scary stories and turn up the heat with scarier stories as the night goes on! Bring a lawn chair, bring a snack, bring a warm blanket and bring a friend. Come early to dine and shop during Bishop Hill's 3rd Annual Harvest Moon Celebration! Here is one of my favorite ghost stories easy for you to learn and to tell "The Ghost with the Golden Arm."
Mid-Winter Writers' Retreat: Playing with Poetry
With a duel focus on writing and performing the various genres of Poetry.
January 15 - 18, 2016 at The Twinflower Inn in Bishop Hill IL
What? Me a published poet? You might be wondering… Whether you already love poetry or simply want to enrich your storytelling performances and deepen your non-fiction essays with stronger imagery this weekend is worth your while! Spend a rich weekend with a dozen other writers in a supportive and nurturing environment. This Writer's Retreat, sponsored by The Twinflower Inn, will provide a balance of instruction, coaching and quiet time to write. If you wish to learn more about building a better essay or structuring your story with clearer metaphorical language, adding poetry to your performances and participating in constructive conversations, then make reservations right away as we tend to sell out. Folks are encouraged to attend the entire weekend, but if locals wish to show up for just one or two of the classes that is also encouraged. Contact Fox to register. (Follow this link for a full schedule.)
Book Lover's Weekends at The Twinflower Inn
Have you ever daydreamed about disappearing for a weekend with your favorite book and nothing to distract you from the luxury of reading? Join us for a pampered reading retreat! From Bill Gates to Oprah more and more folks are planning reading retreats, where you can pour over books you have always wanted to read. Indulge yourself, or someone you love, with a winter's weekend devoted to snuggling up with a book, (or two… or three) unplugged from the outside world. Pampering included! (Read More)
Upcoming Programs
---
SAVE THE DATE: Annual Twinflower Inn Writer's Retreat January 15-18, 2016. For more details follow this link. Contact Fox to register.
Please take a look at his on-line schedule to see when he might be in your area to catch a show or book a program and you can then save on travel expenses.
| | |
| --- | --- |
| October 16, 2015 | Fox is performing "River Ghosts" at the Chester Public Library in Chester, IL. Stories are for age 15 and older. Performance begins at 7:30 pm. |
| October 17, 2015 | |
| October 18, 2015 | |
| October 19, 2015 | |
| | |
| October 23, 2015 | Harvest Moon Shopping and Bonfire. Return to Bishop Hill and shop by the light of the harvest moon when the Bishop Hill galleries and restaurants will be open after dark. Then come enjoy ghost stories around the bonfire at Twinflower Inn. Shops are open until 7:00 pm. The bonfire and ghost stories are 7-9 pm. Call 309-927-3506. |
| October 28, 2015 | |
| November 05, 2015 | |
| | |
| November 14, 2015 | |
| November 28, 2015 | Fox is the lead detective for "The Mystery of the Ugly Christmas Sweater". The murder mystery dinner is at P.L. Johnson's Dining Room in Bishop Hill, IL. Party begins at 6:00 pm. Tickets are $38 and must be purchased in advance. The party is a fund raiser for the Bishop Hill Arts Council Welcome Center. |
| December 03, 2015 | |
| December 11 & 12, 2015 | Lucia Nights - Festival of Lights in Bishop Hill, IL, 6:00-9:00 pm. Coffee and sweets are served in shops and museums by young girls dressed as St. Lucia. Musical entertainment fills the air throughout the village. Call 309-927-3899. |
| | |
| December 19, 2015 | Dreaming Tree Coffee House at the Bishop Hill Welcome Center. Our annual celebration of the Winter Solstice with singer/songwriter Barry Cloyd and storyteller Brian "Fox" Ellis. For more information visit www.twinflowerinn.com or call 309-696-1017. |