Fox is often a guest speaker in the pulpit on Sunday mornings. He performs and/or leads workshops for Sunday school classes, summer Bible school programs, family nights, and youth retreats. Following are several other programs you may wish to host in your church:
Old Wine In New Skins
Old, familiar biblical ideas come to life in new, exciting stories. Combing the world's religious traditions, Fox has woven together dynamic stories with Christian themes to affirm our faith and inspire our worship of the Lord. You choose the themes, Fox will find the stories!
The Meanings Of Christmas
Using traditional hymns and both secular and sacred stories, Fox explores the origins of many of the customs of Christmas. Sing-a-long and remember Christmases past, build memories for Christmases to come. A great way to celebrate the Holy Day Spirit!
A Midwinter Celebration
A Christmas tale, a Hanukkah story, a fable for Kwanza, and a myth for the winter solstice, mixed with songs and poetry, all combine for a magical, multicultural celebration of the midwinter holidays.
Swapping Stories With Coyote, St. Francis, And Han Shan
Could you imagine sitting around a campfire with the wiliest Native American trickster, a Zen Buddhist madman, and Christianity's most beloved mystic? This performance is a cosmic olympics of spiritual story telling, ritual, poetry, and song. Brian "Fox" Ellis moves easily from character to character, challenging the audience to rethink its values and move into the presence of "the spirit." With humor and confusion, sing-a-long and ceremony, folks are moved through the full range of emotion and left in a place where magic just might happen.
Walking in the Footsteps of a Saint: The Miracles and Poetry of Saint Francis of Assisi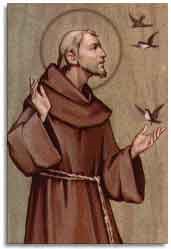 Through stories and songs journey back to the dawn of the Renaissance, to the Umbrian Valley of medieval Italy. Walking in the footsteps of Saint Francis of Assisi, master storyteller Brian "Fox" Ellis retraces the life of this blessed little poor man. From the miracle of his conversion to his rebuilding of the church, Fox shares the joys and struggles of one of histories most influential leaders. Fox traveled to Assisi, Italy to research this performance.
The Lives of Saints
From the Patron Saint of Television, Lady Claire, to the Patron Saint of Hounds, Saint Hubertos, Brian "Fox" Ellis celebrates the miraculous and martyred in this performance of the stories of saints well-known and unknown. With enough advance notice he is willing to research the stories of your patron saints.
Speaking Truth To Power
From Buddhist priests in ancient Japan to Quaker abolitionists in early America, there have always been individuals who dared to confront violence with the truth of their lives. The audience will visit the German prison camps of World War II and the jungles of Central America. They will sing the songs of the Underground Railroad and celebrate the freedom that one finds inside oneself when you find the courage to live your faith.