Brian "Fox" Ellis has been traveling the world for 30 years collecting and telling stories. He has performed on the British Isles and taken master classes with traditional Celtic storytellers. He has written a book on the role of the Irish in building America's canals, written musical theater about his Scots/Irish ancestors and was a featured speaker at an academic conference on Irish Immigration in the Midwest. Fox is the author of fifteen books, has produced twelve CDs, including Under an Irish Oak, and he has hosted his own television show. He is available as a keynote speaker at educational conferences. He also presents teacher training workshops on creative writing across the curriculum. Fox is the Co-Founder and Artistic Director for Prairie Folklore Theatre.
First a more general performance outline and then a few more specialized programs: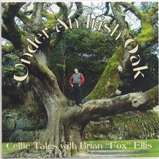 Celtic Tales: Stories from the Irish, Welsh and Scottish Traditions
With the Legend of Tier na Nog and the epic cycle of Finn MacCoul, Scottish ghost stories and Welsh seal tales, storyteller Brian "Fox" Ellis immerses audiences in the rich lore of his Celtic ancestors. Blending folksongs and traditional poetry with myth and history, Brian draws audiences into a world where leprechauns and fairies dwell, where magic seems just beyond reach and dreams really do come true!
An Irish Immigrant's Tale
From the glory days of Erin to the depths of the Great Hunger, from the coffin ships that carried his ancestors across the sea to the role of the Irish in digging canals, building railroads, and creating the infrastructure of America, this performance is a delightful and mischievous mix of mythology and true history, folksongs and traditional poetry.
Looking for Leprechauns
Looking for the pot of gold at the end of the rainbow, Brian takes you on a journey back in time for a visit with the wee folk of Ireland. A bit of mischief and a touch of the Blarney is all one needs to revel in this program of leprechaun tales.
Descended From Finn MacCoul - The Osseinic Cycle
The Epic Life of Finn MacCoul and the Fianna is given breathe in this dynamic cycle of stories that celebrates the mythic adventures of one of Erin's greatest heroes. From his boyhood trapped in an oak to his tasting of the Salmon of Knowledge, from his reclamation of the Fianna to the reign of his son Ossein, we celebrate the ancient glory of Erin and the promise that the future holds.
Gaelic Ghosts
The Emerald Isle is haunted with more ghosts than one would care to meet in an eerie evening of mysterious tales. Puka's, banshees, and big black dogs haunt this program of scary stories.