Whether it is classic mythology or modern history, fables, folktales or scary stories, Fox will put together a spectacular tour of the world through stories, poetry and songs in other languages. You can focus on one region of the world or a quick world tour. If he knows in advance which countries you are studying he can be sure to include stories from those cultures.
When I saw you at the Elizabeth Community Building, you were awesome! I want to see you again sometime so that you can meet my grandma. I love your stories!!!!!!!! Sincerely, Riley H. (Student)
Around the World In (less than) 80 Minutes

- This performance moves the audience from the distant hills of Japan to the plains of Africa, from the mountains of Kentucky to a small Russian village. Songs in other languages and the tales of our motherland help us to celebrate the world's diversity and the similarities found in every human heart. You name a country or region of the world and Fox will tell you a story! This program can focus on fables, fairy tales, creation myths, ghost stories, or wisdom tales from a variety of countries or it could include a mix of these various story types from a single region of the world.
Follow this link to view lesson plans.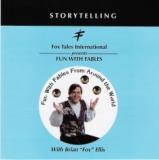 Fun with Fables From Around the World

-

These are animal stories from a rich international literary tradition. These timeless tales from many cultures teach listeners to learn from their mistakes and celebrate their successes. Witty characters provide models of wisdom and challenge listeners to think for themselves. Listen to fables from Aesop, Musa, the Buddha, Tolstoy, and Elijah. Sing songs in English, Swahili, Russian, and Yiddish. This is a program originally developed in conjunction with The Children's Theatre of Minneapolis. Many of these stories are available on Fox's cassette tape of the same name.
Many of these stories are available on Fox's CD

Fun With Fables

.
Speaking Truth to Power

-

From Buddhist priests in ancient Japan to Quaker abolitionists in early America, there have always been individuals who dared to confront violence with the truth of their lives. In this dynamic performance the audience will travel through history and around the world to meet some of these courageous and wise souls. Listeners will hear true tales and learn from these historic struggles. The audience will visit the German prison camps of World War II and the jungles of Central America. They will sing the songs of the Underground Railroad and celebrate the freedom that one finds inside oneself. Within the context of these stories students will learn problem-solving strategies as they participate with the main character in conflict resolution. Students will meet appropriate role models and learn the skills they need to confront the crises that are a necessary step towards growth.

For younger students these same themes of problem solving, confronting bullies and alternatives to violence can be approached through folktales from many cultures.